Find A Tick? Submit it to TickSpotters!
TickSpotters is America's crowd-sourced tick survey. We invite you to submit a picture of your tick, for FREE. We'll confirm the tick id, and email a custom response, including best next TickSmart™ actions you can take.
If you have a smart phone, you can visit our mobile-friendly site: TickSpotters.org
Blacklegged (deer) ticks, American dog ticks, Lone Star ticks, Brown dog ticks, Western-blacklegged ticks, Rocky Mountain Wood ticks. These are the most commonly reported ticks to TickEncounter. Read more about each species. Remember, different ticks carry different diseases in different parts of the country.
TickEncounter receives tick pictures from people across the country. As part of our TickSpotter initiative, we'd like to share what characteristics we look for when it comes to identifying ticks. As citizen scientist, we encourage you to be as accurate as possible when submitting a TickSpotters find.
We get a lot of tick bite questions, for example: How do ticks bite without you feeling it? I was bitten by a tick recently and now there is a big red spot. Should I be worried? When a tick bites how long does it stay attached? Visit our FAQ section to learn more. If you can't find an answer to your question, we encourage you to submit a question via our FAQ form.
We've heard of many different techniques people use to remove ticks over the years, use a hot match, cover the tick with vaseline, the Q-tip twist. However, a quick and effective tick removal should always be performed with a pointy tweezer, leaving the tick intact and ready for testing if recommended.
Different tick species, different tick habitats. If you're a homeowner, a hiker, a dog owner, an outdoor worker, or simply enjoy the outdoors, it's good to know and identify potential tick habitat in your surroundings. Visit our Protect Your Yard section to learn TickSmart Actions to make your yard TickSafe.
If you intend to protect yourself and your family this tick season, The Tick Guy recommends using clothing-based permethrin products. Read about the effectiveness and safety information of Permethrin and download the PDF so you can easily print and share in your community.
If talk of this year's potential
tick apocalypse
wasn't bad enough, alarming news of a
new tick-borne disease called Powassan virus
has taken the internet and local TV stations by storm.
Lone Star ticks can now be found as far west as Colorado and Wyoming and as far north as Maine. Learn more about this "new" tick and the red meat allergy.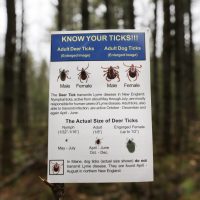 WBUR has a new series called, "Losing to Lyme: A series on why we're losing the battle against tick-borne diseases and what we can do about it".